Had lunch on a blitzvisit to Udaipur after riding the last 250 kilometres on the fantastic NH76 cruising at about 80 kilometres an hour. Something doesn't work out in this equation but I don't know what it is. The fact that I started out riding more slowly, like every day? The engine seems to like 60 in the early morning, then slowly moves up to 80. Sometimes it would like to go up to 90, but I don't usually let it – let's find out a little more about this bike first, its likes and dislikes and its strong and weak points. Or was it my late departure, due to more poha in Bijolia before leaving, as opposed to my usual habit of covering a hundred kilometres before breakfast?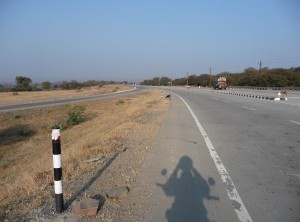 It can't have been my two tea breaks, though one took a little longer than expected because of the lovely family that served me. The chai lady had a loud and raspy voice, which came out best when she laughed. Of course no one spoke a word of the other party's language, but that was fine. Camera worked miracles too, they all posed and then the lady took the thing from me and took my picture as well as pictures of her wedding photographs and the icons of their deities.
Back on the road I realised I was no longer so easily shocked by the traffic, even though it was getting more intense as I came into a more populated area. Rolled in to Udaipur and easily found the Lake Palace Road – German bakeries, English speakers, white people in shorts, and screenings of the James Bond film Octopussy advertised in all the rooftop restaurants.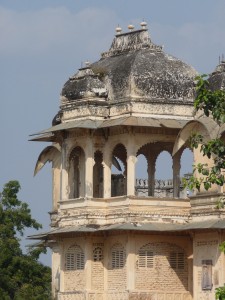 Lunch was in one of them. Backpackistan is fantastic – good food, friendly people who speak English, relaxed atmosphere, and of course the city is beautiful. I had been planning to be here last night and get to Anand today, let's see what will be possible. It's a good place for a break anyway. Decided I couldn't possibly hide my face from all my fellow tourists and rode out city style. The border of the tourist island is very clear, and it made me think about how we often visit one such spot, load ourselves onto planes taxis buses trains and get down in the next one. Island hopping overland. I guess is what we always do anyway, to whatever extent, but it's nice, thanks to the bike, to lose the distinction between the route and the destination.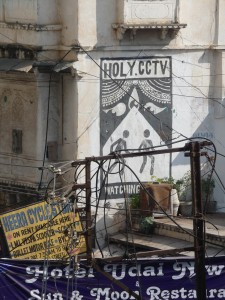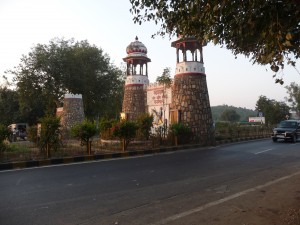 The border with Gujarat was an Efteling gate and a police road block (fences & boulders) with no stopping again. Had a cup of tea on the other side of the gate and when I left, the bike's fuse gave up, leaving me with no electricity hence nothing. Fixed the fuse and rode on to Modasa (which, according to my counter, was 30 km further than the signs said). I turned off the highway, onto a highway. I'm not quite sure what's up with this tarmac fever but it was good for me. Till I once again came across the dark side of highway construction: the construction. That meant we were thrown on a side road with a broken surface, potholes, piles of sand, dogs and all the other usual suspects. During the last bit it was dark. The air felt smooth and pleasant, even though it deposited buzzing mosquitoes into my ears, where they were trapped under my helmet. The oncoming traffic of course had their high beams on, making me totally miss a man who was crossing with two cows until I was uncomfortably close.
In Modasa, I was turned away for not being Indian by a succession of hotels gradually moving into the center. My fuse kept blowing up and I was getting a little frustrated with the progress of this evening. Being eventually out of fuses I tied the wires together directly, and stopped at my last resort with smoke coming out of the headlight and the smell of burnt plastic. Spectacular but a bit worrying. Finally found a hot, expensive, and unclean room and nothing to eat anywhere, not even at the bus station across the road. I bought water and crisps from shopkeeper Usman, and optimistically asked him if he had some electrical wire. To my surprise he started rummaging around on his floor and pulled an unconnected dusty meter of cable from behind a cupboard. If this would be of any use? Most definitely, Usman, thank you very much. I walked back to my room, looked at my bike that was parked on the pavement of the main road next to the bus station. Must remember to make safe parking a priority? Sometimes it just doesn't work…
Next morning as soon as it got light I checked the bike – nothing seemed wrong in the headlight. I fixed the fuse with Usman's electrical wire. It worked fine, so slightly puzzled I rode the bike to a good parking spot, parked, and the fuse blew again. There was no problem with the brake light switch, so what could it be? Looking for electricity clues, I noticed the chain was very slack. Cursed myself again for not having tools. While waiting for the mechanic someone promised me, I looked for the last electrical thing that had been touched on the bike. In Kota, the mechanic had been connecting some wires in the front of the bike, when I couldn't leave because all electricity had gone. And indeed, the connection was unisolated and caused a short circuit when turning the handlebars – to park the bike, for instance. Still waiting, I had breakfast and a shave and then got fed up, asked the wiry hotel man if he knew someone. He did, and took me there, introducing me as German. "Indian mischief", he explained, folding up giggling and slapping my back. The chain got fixed, and the uncovered connection taped. Then the mechanic tore a strip off his rag and tied the cables togetherl dismissed my fuse solution, and sent me on my way. I loaded and left and put in my fuse solution at the edge of town and put my biking gear on.
Rode into Anand hours later, found the Vidyanagar Coffee Day easily and was completely happy with my double espresso and brownie while waiting for Sanderien.