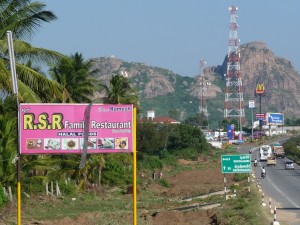 The hill crossing on the day I left Bangalore had to wait till after lunch – but then, so did most everything on that day. After spending many hours waiting for a meeting that never happened and accepting further delays caused by multiple half-decent but oh so welcome espressos (espressi?) in the very place where I first was introduced to non-decoction black coffee in India many years ago, I set out to find the highway. Now I now I don't have a very strong sense of direction, but if this is supposed to be the fastest and smoothest way to Madras, don't you think they could signpost it a bit better?
When I eventually found the highway, my stomach told me it was lunch time, so I pulled into the parking lot of what turned out to be a non-veg restaurant mainly catering to people imbibing vast quantities of cheap booze. You've got to give it to the non-vegetarians though, the food was excellent, tasty and spicy.
After lunch and the hills that followed, I rode into fields of green coconut plantations in neat rows and other vegetation with rocky hills rising out the the rolling landscape here and there. Sometimes the hills turned into mountains – higher, bigger, less green and more rocky.
I slowly realised I'd never make it to Chennai, and then also gave up on Vellore. Just before dark I found a stuffy room in a friendly hotel in the busy little town of Ambur. The bike found a place to stay for the night in the guarded parking lot next door and I went for a walk while the powercut left the room in the dark. I found a dosa place that looked good, but felt like walking a little more. Food on my mind, I was trying to rembember where I had my first dosa, not more than a few days ago. I'd missed those sourdough lentil-rice pancakes, very happy to be back in their native lands. Thinking about local dishes, I realised that I hadn't had pav bhaji anywhere in Maharashtra – the red stew eaten with white buns drenched in clarified butter. Not that I really minded, my relationship with the stuff has always been somewhat ambiguous, but when the sweets shop I entered for juice or tea proudly announced to have the Marathi junkfood on the menu, I didn't resist. I asked the cook to put cheese on the sandwich I also ordered. He looked hurt and confused, was silent for a second, and said no, it has butter and chutney. The food was mediocre and when I washed my hands afterwards, a gigantic cockroach didn't even try to hide in the woodwork around the mirror. I did not stay for tea.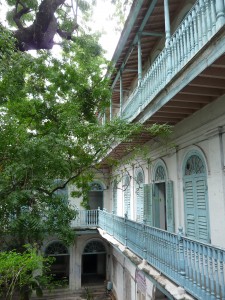 After a good night's sleep, I was on the road early. A breakfast of deep fried puris kept me going till I reached the confusing route into Chennai, amusing myself with the signs along the way that were intended to inspire caution. There is someone at a desk somewhere who makes these things up. One day, I might apply for that job. "Fast drive could be last drive" may not be too creative, but how about "Death is natural, you don't cause it"?
After the confusion of the Poonamallee High Road (mainly caused by my wondering if I was on it or not), I quickly found Triplicane and parked my bike in the courtyard of my home in Madras, hotel Broadlands. The testride from Kathmandu to South India, some 3,500 kilometres, has been a great pleasure and I'm looking forward to got on to the road again in four or five months. But first, let's find out what a musician's life in Chennai is like.