I noticed them for the first time in 2004. Beautiful design, and a sound that makes a Harley hang its head and weep. I decided to one day ride a Royal Enfield Bullet to Europe, passing through all those countries I'd so far only seen through an aircraft window and on TV. Shortly after returning to the drizzly cold of the Dutch winter, I spotted one on the Amsterdam Nieuwmarkt – so it's possible!
My friend Ned and I talked about augmenting our frequent musical visits to India with riding Bullets, but this dream never made it out of the swamp of possibilities, overtaken by more pressing, more interesting, more rewarding projects. Years later, I wanted to do something difficult and unrelated to the usual and got my licence. Intended to organise the motorcycle journey on my next trip to India, playing with chamber jazz trio oto.3 in the winter of 2010-11. I planned to buy a bike, prepare everything, come back a few months later and ride to Europe. However, from Chris Bright in the Adventure Motorcycle Handbook, Lalli Singh, and others, I understood that it's impossible for a foreigner to get a carnet, needed for international overland travel, for an Indian bike. Solution: buy a bike (at a much higher price) in Nepal, where a foreigner can register a bike in their name, and to get a carnet. And if the bike is from before 1998, it even seems possible to import it into my home country, the Netherlands.
After returning to Amsterdam, I discovered a whole new world of motorcycle stories in films, books, blogs. Essential inspiration were Gordon May's Overland to India and Benno Graas' Het Aarden Beest. I enjoyed the classics – Jupiter's Travels, Long Way Round, Mondo Enduro. Dirt Track Productions has a number of great films on riding Enfields in bizarre places, including Gaurav Jani's amazing Riding Solo to the Top of the World, and One Life to Ride is another charming Indian biker story. A bit of Sons of Anarchy to learn how to make offers no one can refuse, and I'm ready to go.
October 2011, Kathmandu. Been looking for a bike since I got here. Quite a vibrant motorcycle scene, various clubs organising tours sometimes going as far as Tibet. At the workshop of the Himalayan Enfielders I met Dutch expat Willem, full of enthousiasm and good advice (sold me a pair of panniers too). Through Mariano from the Kathmandu Jazz Conservatory, where I taught some workshops, I met the very helpful Rabi Thapa, Enfield enthousiast and bike trip organiser for Sacred Summits. Great to hang out in the Handle Bar under his house with captain Mahesh and their biker friends – all riding Bullets, all with their own modifications ranging from skull shaped tail lights to hand-shifted gears. Rabi put me in touch with some people who might be interested in selling their bikes. A tempting option was a 1979 standard Bullet – engine like a clockwork and the bike looked gorgeous, a glowing kind of dark brownish rusty maroon. I may have been a little prejudiced because owner Manish also introduced me to the Himalayan Java Café where they serve easily the best espresso in Asia. I looked at a few more bikes, took some testrides. I liked their sturdiness, the power produced with deep one-cylinder sound, the comfortably upright posture. The bike is quite big and heavy in this traffic, could either be considered an advantage because people move out of the way (I'd like to think), or a disadvantage as you don't fit through narrower gaps between traffic, and you're simply less manoeuvrable.
[slideshow post_id="1093″ exclude="1337″]
Looking at all these bikes, I should have probably been a little more critical. I could have for instance have had a closer look at some tips and other tips on buying a used motorcycle. Also, I could have taken the bikes to independent mechanics, without interest in the sale – though I also think it was hard to see all the relationships.
I kept coming back to the '79 maroon one. So, over another espresso, Manish and I agreed on the sale and the next day took the bike to the workshop. In the evening, his chopper-lookalike had metamorphosed into the Bullet I was looking for. New seat (though a single, sprung seat still floats around in my head), mirrors, wider handlebars, new mudguards. The Vintage Motorcycle Club had a charming atmosphere (and got me the best momos, and had former king Mahendra's former BSA in a corner waiting to be fixed up), and organised a nice and easy ride up to Nagarkot a few days later, but I wouldn't recommend anyone to take a bike there. Their mechanic was a little too quick rounding your bolts, and had as his favourite tool the hammer. (The little boy who helped out is someone to look out for though – had a care and patience that might make him and excellent mechanic in a few years.) Apart from the sloppy job, they sold me spare parts at a multiple of their original prices, including an inner tube of the wrong size, and adapted their diagnoses of gearbox trouble I'd noticed since the beginning after consultation with their friends. Frustrating because of its dishonesty, but "Too late to bargain now. I owned it", as Hoohoohoblin put it.
Getting the bike registered in my name, obtaining the "blue book", the Nepali vehicle registration document, was handled by a middleman who knew which document bring to which desk at what time. Endless cups of tea, signatures, finger prints, and desks with a variety of authoritarian men later, having managed to make ourselves heard amongst everyone who wanted to be helped at the same time, the bike was legally & officially mine. My portrait in a little blue book. I've got it! I concluded the whole process with a few days of riding around the country with Sanderien, who had come from Gujarat for a week. Then my carnet was delivered from England at Hearts & Tears and I was ready to go.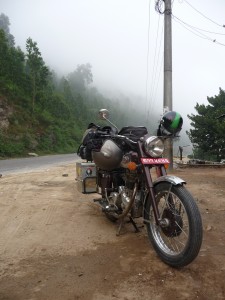 To get a carnet from the RAC I sent them the application form, photographs of all the (filled-out) pages of the blue book and their translations, and the bank statement of the payment. They let me apply while still looking for the bike – I filled out the application as far as possible and sent them the frame & engine number and the copies as soon as I'd bought it. Paul Gowen, Mr. Carnet, was busy but very helpful. (Contacting him with "Carnet question via Horizons Unlimited" in the subject line helped.) The deposit on the bike for the overland route to Europe is 500 % of its value – seems to be generally estimated at £ 1000 for a classic Bullet. (It's possible to pay the full amount, or get insurance for it.) You can view or download a rough idea of a translation of the blue book as a pdf or txt document. Use at your own risk, I don't claim this is accurate, complete, correct etc, it is only intended to give you an idea of what the translation could be like. It contains contributions from several people, varying from a distracted hotel owner to a guy in the office next door whom I thought worked there – he didn't, just came in to pick up some flight tickets he'd booked before – and the previous owner of the bike. This translation was awarded the carnet.