When I visited Berlin in 2007, I lived in my yellow camper van in the Volkspark Friedrichshain amongst other mobile-home dwellers during what must have the coldest spring since the banana war. Snowstorm on 21 March. The Kastanienallee in nearby Prenzlauerberg welcomed me with its squatted cinemas, small dance studios, open source computer workshops, independent cafés, and underground venues.
Now, five years later, a lot has changed. Cheap food is still widely available, but is now washed down with latte machiatos by people wearing designer shirts. The buildings look fresh and young mothers with clean children in carrier bikes check their friends' moods on their iphones.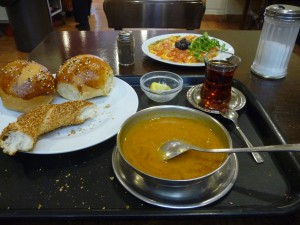 My friend Jeremy Woodruff and his family have been living in this area since 2005. With some musical friends, Jeremy started up the successful Neue Musikschule Berlin, which recently expanded and moved into a building in the Turkish area Kreuzberg – where he let me stay for the time I was in Berlin. At a lunch with the Klang der Krise thinktank of academics that Jeremy invited me for, a longtime inhabitant of Kreuzberg told me about the holy grail: menemen! At Kottbüser Tor, supposedly. She was right, and not only did I find menemen, also çorba and demlı tea. Home sweet home.
After my adventures at DIY Church Radio and the Pizza Suicide Collective, the official Elephant Songs Berlin was a rather exclusive affair. Old friend Ingrid turned up after musicians Jeremy and Oori Shalev had arrived, and she was and remained the only audience that night. The room belonging to Jeremy's Neue Musikschule was cosy and warm, and I was excited to share the room with Tony Buck's collection of drums from all over. After setting up and venturing out to stock up on wine and other essentials, we improvised on our drums and whistles for a most enjoyable hour.
And now, to paraphrase mister McEwan, get me out of fucking Berlin! I rode down the streets that had become my friends on my nightwalk from jazzclub Sounds the previous week, crossed the river, and then I felt the spark plug being blown out of the engine. I now know from experience that an internal combustion engine is all about compression. Ever tried to explode a blown-up paper bag that's already got a hole in it? You hit nothing, no resistance. No explosion. Same thing happens when there's a hole in the combustion chamber. A fix turned out to be fairly temporary, and I'm now stuck in a youth hostel in Steglitz, of all places. To be contintued. Somehow.