Arrive late at night and get lost. No aim, no route, no schedule. After finding yet another hostel dorm bed in Münster (last stop before the Netherlands, early October 2012 on my elephant songs trip from South India to the low lands) I once again realised how alive I feel exploring a new city, without a plan, at night. Coming out of a shopping street that would not look out of place in Amstelveen, Zoetermeer, or any other Dutch sleeper town, I walked straight into an enormous early gothic cathedral. Tall arches made of large blocks of off-white stone, arches only slightly pointed, not yet very far removed from its romanesque predecessors. While I was standing in awe, people walked by, chatting casually, or rode bicycles around the buttresses. No one looked up, let alone stood still to admire this ancient structure. Of course they all had other things on their minds, places to go, people to meet, not even to mention the fact that they probably passed by several times a day. I felt so lucky, soft raindrops falling on my turned-up face, to notice all this beauty.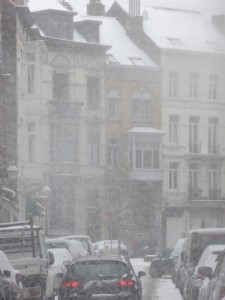 And I wanted more. Didn't feel like going back to the places that I myself am so familiar with that I hardly notice them anymore, easing back into the life I already know. I wouldn't want to say goodbye to everyone and everything in Amsterdam, but fortunately, as I'd noticed since leaving Turkey, Europe has a high city-density and there are unknown places, where people speak foreign languages, less than half a day's bike ride away from there. So on a cold mid-January evening I disembarked from the Eurolines coach into the Great Unknown of the city of Brussels and set off, in what I thought would be the general direction of the centre. Where the snow was fresh, it filled the soles of my heavy old army boots (too large and lined with wool, a perfect combination for keeping feet warm); where it was condensed by many footsteps or re-frozen, it gave no friction at all. Great work-out for new muscles in the thighs.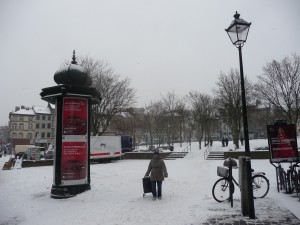 Make friends. And hang out on a frozen roof and/or in someone's living room. A few days after my arrival, I found myself on the snow-covered roof of Okno trying to stay warm with glühwein and pumpkin cake to celebrate art's birthday, fifty years after Robert Filliou discovered that art had been born one million years ago that day. I was invited for the celebration by Isjtar, whom I met to discuss if he'd let me rent a room in his apartment in St-Gilles. Insofar I have a history with Brussels, it is with that part of town: this is where we used to park our camper van for a few days in Brussels on the way back from France. My main memories are of the Palais des Thés and graffiti in railroad underpasses, and a pleasantly hidden churchyard somewhere.
After the elevated party froze to an end, we relocated to the warm cosy house of mutual friends Tomas & Anat on rue de Moscou, recently arrived in St-Gilles from Amsterdam. After a few happy hours of catching up, listening to music, and eating potatoes, it was only a ten-minute slippery walk back to my toasty room at Sam's, my friendly couchsurfing host.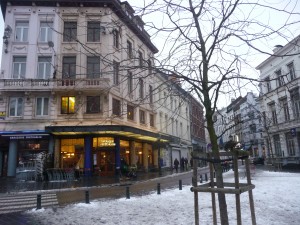 Find a stamkroeg. St-Gilles is full of cool cafés. The general lay-out seems to be a largish open space, brightly lit with tl-tubes in art nouveau disguise. Wooden tables, affordable food, and generally more than acceptable coffee. My favourite quickly became the Brasserie Verschueren, supposedly famous for having been the HQ of the [CCC] back in the revolutionary '80s.
Besides a regular café, it's of course important to know where to go for good music. I already knew Les Ateliers Claus because I played there once with Lola Montez, and headed over there through cuttingly cold winds to hear a fantastic concert by saxophone hero Peter Brötzmann and friends. The evening was opened by double bass storyteller Peter Jacquemyn. He played beautifully, making his bass sing with many different voices, all perfectly timed, the right information at the right moment. If he'd skipped the unnecessary epilogue, it'd have been perfect. Brötzmann and drummer Steve Noble played an amazing set of classic free jazz – energetic, colourful, dynamic, surprising and never letting the tension drop. Fantastic.
My first week in Brussels came to an end with the good news that I got the room. Now I'm back, after a week-and-a-half of meeting Tehrani friends at the Rotterdam Film Festival and a week of playing for dance classes. The quest for venues, musicians, friendships, and perfect coffee continues.