In-bowl taps in the toilets replaced with paper, church bells instead of azaan, and on the road to Sofia every other kilometre a stoned-looking woman who forgot to put her clothes on, advertising things as diverse as hotel rooms, soft drinks, and hunting rifles.
Riding into Bulgaria's capital Sofia was a strange déja-vu. I've been told its grandiose neo-classical style is typical for the communist era (the city was bombed badly during WW II); to me it first of all looks European. Familiar brands of cars (and the odd Lada and odder Trabant) glide through the streets, gallantly stopping for anyone who so much as looks at a zebra crossing. I've reached a different part of the world. (The taxis are still yellow, though. Since when have there been yellow taxis? Iran?)
Even the weather has changed – on my way from Plovdiv to Sofia the forests were turning yellow and the evenings are chilly now. Summer is on its way out, the exotic part of my trip is over, from now on everything is much more familiar.
All that said, I'm looking forward to the different flavours of Europe I'll encounter on my way up. So far, one surprising feature of the Bulgarians is their use of the Indian headshake for "yes". And that while I'd just gotten used to the Iranian and Turkish meaning of a very similar gesture, a quick shake combined with an irritated frown, meaning "I beg your pardon, say again?" The throwing-back of the head still throws me off – with or without a sharp tongue-click, this gesture, so close to what I understand as "yes", means "no". To add to this happy diversity, the same gesture in India means "I beg your pardon, say again?". Still following? All I'm saying is that Milan Kundera's theory of how gestures use people to express themselves, however charming, might not be the full story after all.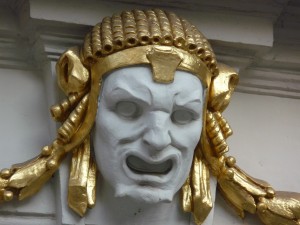 The free Sofia walking tour was a good way to get to know some landmarks, always helpful when trying to navigate an unknown city on a motorcycle, as well as an educational introduction to Sofia. Among other things, I learnt that the mosque I'd noticed when I entered the city is ascribed to the same Mimar Sinan who's partly responsible for Istanbul's Sultanahmet skyline and whose work is all over Edirne, including the bath house I visited. (Stories about all that will be up shortly – check back or subscribe to updates.) It's the only functioning mosque in Sofia at the moment (plans and funding for a second mosque have been ready for a long time, it's just the required permits that are slow to come), all others were either destroyed or got a different use after the Ottomans were kicked out in the Russo-Turkish War of 1877-78. The Alexander Nevsky Cathedral was built in the late nineteenth century to commemorate the victims of that war. (It seems you're supposed to keep your footwear on in christian houses of worship. Weird.)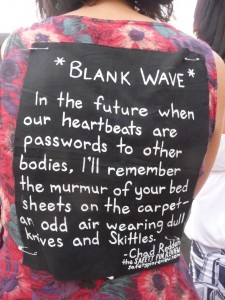 One of my fellow wanderers had a poem pinned to the back of her pink-and-purple flower dress – courtesy of the Safety Pin Review – which I wanted to keep reading again and again, perhaps because of its enigmatic last line. She turned out to be writer Delaney Nolan, in town for the софия поетики, the Sofia Poetics. The next few days I enjoyed the festival, where besides Delaney reading her short stories, works in English were read by Edinburgh-based American hippie-dandy Ryan Van Winkle and Englishman and former cagefighter SJ Fowler. Once again, the world – or maybe it's just our artist's tribe – proved itself to be small: organiser Ivan Hristov of софия поетики is also a musician, and he turned out to be married to musician-actress-writer Angela Rodel, whom I'd contacted earlier about music and musicians in Bulgaristan.
I spent a few pleasant days wandering around Sofia's cobblestoned centre. Found some CDs by Theodosii Spassov and finally an interesting book again (Emine Sevgi Özdamar's The Bridge of the Golden Horn finished long ago), Eco's The Prague Cemetary. Should be a good preparation for my journey through the dark heart of Europe. But first I'll have another go at finding the frenzied rhythms in 13/9 that I looked for in Sofia in vain. Belgrade, Serbia, here I come!