Poolside in the Chams Hotel, waiting to go to our soundcheck. Whilst Amsterdam seems to have resolutely entered summer, the aforementioned chams – sun in Arabic – is hiding behind a thick layer of dark grey clouds here in Tetouan, on the north coast of Morocco. The swimming pool would be better suited for windsurfing today. My first trip to Africa, and no sun to be seen – this is Nepal all over again.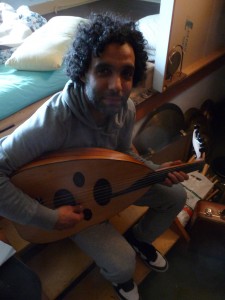 We're here to play with the Ahaddaf Quartet at the 16th International Oud Festival, sharing the bill with musicians from many countries including Iraq, Greece, and this year's special guest, Palestine. Mohamed Ahaddaf and I met about a hundred years ago, at a Chaishop show – a series of impromptu musical meetings organised by Ray Namaste, mostly at branches of coffeeshop Rokerij (now closed). The Chaishop was a great initiative: Ray figured there were a lot of great musicians in Amsterdam, from all over the world, who didn't necessarily get to meet one another. Ray started organising gigs combining us, often in duos, and Mo and I had a lovely evening at one of these. Of course we exchanged numbers but at the time nothing came of it. And then, when his quartet's regular percussionist Ulas Aksunger wasn't available for this summer's Moroccon adventure, we met again.
Mo and co-founding member bassist Stephan Raidl taught the new guys the repertoire – pianist Avishai Darash couldn't do the Moroccan tour either, so Xavi Torres took the job. Mohamed's music is very melody-based, adds or takes out beats or parts thereof when needed. Try to count it all out and you go mad; sing with the flow and everything is easy and wonderful. The percussion parts are strong grooves, usually played on cajon, darbuka, floor tom, cymbals, and a few more beatable objects. My set-up is closer to a traditional jazz/rock drum kit – so my job as a drummer is to sound like a percussionist who plays like a drummer. Interesting distinction, drums versus percussion – that'll be a great topic for another post, so check back soon (or simply subscribe).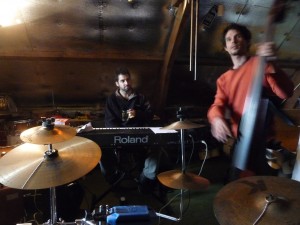 We played a couple of shows in Amsterdam before leaving for Morocco, including one at the Eye accompanying Kif Tebbi, a silent film from 1928. An unapologetically exotist (and borderline racist) and incredibly long-winded romantic melodrama by Mario Camerini, set against the Ottoman – Italian war in Libya in 1911. The film did impress some people: a review in the New York Times from 1919 praises the atmospheric depictions of "African villages; scraggly lines of camels trooping over the dunes; regiments of fleet-footed Arabian horses galloping down dirt streets, with long-muzzled carbines pointing skyward from the backs of the hooded Arab riders". For us (with pianist Avishai this time) it was a great way to play around with our material: weaving our separate tunes into an unbroken two-hour piece, forming smaller combinations within the quartet, varying and stretching and reworking our songs and creating new sounds as we went. Fun, inspiring, and helpful to discover different sides of & possibilities with our music.
Finally, last night we arrived in Tetouan at some ungodly hour after a long day of plane food & airport limbo. Today was pleasantly slow – espresso and green tea with mint and lots of sugar, getting lost in the medina, admiring the multi-coloured geometric tiles everywhere. And now it's time to find us a theatre and some sound to check. Looking forward to play tonight, slightly nervous. Oud enthusiasts of the world, stay tuned for further impressions of the Ahaddaf Quartet's Moroccan tour.