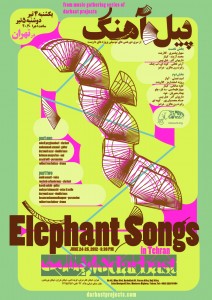 When discussing possibilities for playing gigs in Tehran, Amirali (at whose Parkingallery we played on 10 June) put me in touch with Darbast, the concert division of the Mohsen Gallery. After yet another ramble involving more of Tehran's highways then I really needed at 8 am, I found the place, hidden in a residential area just off Modares Highway – but only reachable through an impossible maze of small streets. Though the problem started already when trying to locate the exit: many streets are known by their old names – while of course only their official, post-revolution names are signposted. I was told to leave the motorway onto Zafar Street, but was close to the Parkway Bridge when it dawned on me I might have missed it. Turned out the street I was looking for is now called Dastgerdi. Of course. But green tea with the lovely Persian sugar subsitute that I forgot the name of (help!) and chocolates made me quickly forget my miseries, and I had a very nice chat with Mohsen boss Ehsan and his people. Oh how I like these people's sense of time, so much closer to my own: short-term thinking is not frowned upon, but rather the default mode. So we settled on the dates for two shows, and I left with a bag of cds of Mahriz Records, the label that Ehsan recently got involved in, founded by Nader many years ago. Some of the musicians on the albums might be interested in joining, I was told, as might some of the members of Pallett, the band I saw play at Darbast a few days before.
Over the next few days, I put together two bands for the evening, which both would play a set. A jazz-and-surroundings line-up with Soheil Peyghambari (clarinet), Mohamad Azmand (electric guitar), Daryoush Azar (double bass), Arash Lotfi (percussion), and yours truly (drums) and a more world/folk oriented combination with the musicians of Pallett: Omid Nemati (voice), Rouzbeh Esfandarmaz (clarinet), Kaveh Salehi (acoustic guitar), Behnam Moayerian (oud), Mahyar Tahmasebi (cello), Hessamedin Mohamadianpour (percussion), and the same bass & drums tandem consisting of Daryoush and myself.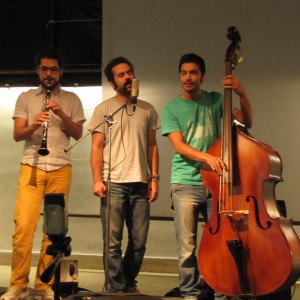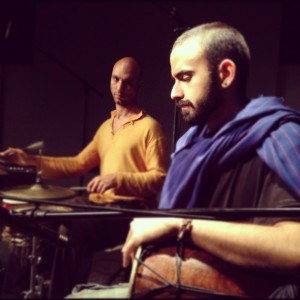 After a week of intense rehearsal, we played two sold out nights (apparently all tickets went in half a day) for very happy audiences.