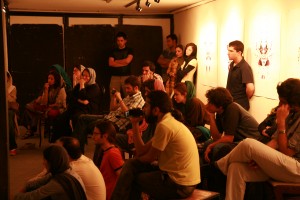 In the summer of 1998, Amirali Ghasemi started the Parkingallery, an independent project space in a former garage in the north of Tehran (expanded in 2002 with an online gallery). One good Friday, at the opening of Amir Bastan's Worn Out Mirrors (Friday is Opening Day in Tehran), fellow percussionist Arash Lotfi informed me that we would perform in the space that coming Sunday. We asked oud player Kaveh Kamjou to join us, and, surrounded by Amir's rorschach-art, we played an evening of improvisational music to a, given the short notice and no advertisement, surprsingly large crowd.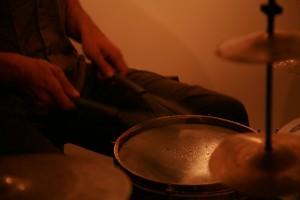 Our preparation for the show was a few hours of jamming in the afternoon, trying out different placements in the space. We worked on some tunes, grooves, improvisation ideas, and had another cup of tea before the audience started arriving. If I ever make a film out of the footage I collect on this trip, you'll see that Arash also plays the ney beautifully. I can only wonder how he used to play the setar, before the accident that ruined one of his fingers, exactly three years ago these days.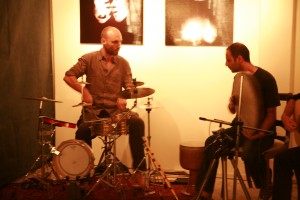 One of the pieces was a percussion duo, featuring Arash on the lab chang, a Persian mouth harp.