First time I'm on an airplane in a long time (my last flight was a domestic Indian Anand-Delhi blitzrun more than a year ago when I unexpectedly needed a No Objection Certificate from the Dutch Embassy to obtain a visa for Pakistan, the first country to cross after leaving India on my way to the lowlands on an old motorcycle loaded with drums). Take-off will always be a miracle, the rest is as tedious as it ever was. The air host family is currently doing their dance of the trolleys – back and forth and back and forth and just when you think they're ready to serve you that much-desired drink (any liquid would do fine at this point, when insides of noses have turned into brittle crusts), they back away to the other end of the tube again. The atmosphere is dry and hot, and I'm filled with anticipation of what will happen on the other side of air travel limbo. I'm on my way to Suleymaniyah, in Kurdish Iraq, to do an Elephant Songs project with local musicians and Iranians I met on my drumbiker trip last year. The adventure is commissioned by a Dutch NGO.
Though originally intended to celebrate no rouz, this part of the world's new year celebration on 21 March, the festivities in Suleymaniyah proved a little more difficult to organise than expected. So much so that I lost some of the Iranian musicians I invited – clarinettist Rouzbeh whom I so pleasantly worked with last year, and santoor player Kayvan Farzin whom I was looking forward to meet both had to accept other gigs when the event dates remained unclear for months. (As it happens, Rouzbeh and his band Pallett will be in Europe while I'm in Iraq; with a bit of luck I'll join them for a bit when I return.) In addition, two classical instrumentalists from Tehran I would have loved to have in the band couldn't find a way to travel; they considered the overland border crossing too dangerous for female musicians.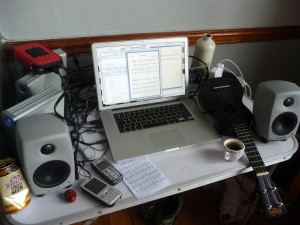 My dear friends Arash and Kaveh however are on their way as I type this, so we'll have a chance to continue where we left off after our fully improvised show at Amirali's Parkingallery last year. We'll be joined by bassist Ari Ali from Suleymaniyah and hopefully we'll find one or two more musicians, as well as some people who'd like to join our percussion workshop. The final weeks of summer in Belgium I've been working on my Elephant Songbook, preparing melodies, grooves, improvisation instructions, development approaches. Asked the others to bring ideas as well, to create new music elephant song style: not finding the lowest common denominator but combining backgrounds, mixing and juxtaposing them. With all that done, this is the moment to let go of my plans and expectations and work with what we'll turn out to have, to create an evening of fantastic music from what's there. It seems the Bhagavad Gita forgot to mention <disclaimer> or maybe I just missed it </disclaimer> that apart from not worrying about the results of our work (our only duty is the work itself), it's counterproductive to hold on to our expectations as well. So here's to using preparation as a safety net only and being open to everything.
Touchdown in a few hours, no idea where I'll sleep but all will be well. Looking forward to a week of music, nice weather, catching up with friends, reportedly good coffee at our rehearsal and concert venue Caffe 11. Once again travelling to play music. Curious & excited about the collaboration, the audience and their reactions, the artistic results. For those of you who won't make it to Suleymaniyah on 10 October, I'll post a 20 minute documentary some time in the week following the festivities. Stay tuned.