On my way from Esfahan to Tehran I noticed a New Sound in my bike.
Anyone who's ever owned a mature bicycle knows what I'm talking about. In Zen and the Art of Motorcycle Maintenance, Robert M Pirsig describes how the engine of his "cycle" sounds like there's a hand of loose change rolling around in it, but how he immediately recognises it when something is out of the ordinary. Your machine can make all the sounds in the world and may sound dreadful to others, but you know the way it sounds – if anything is different, you pay attention.
In this particular case, I first thought of the words of mechanic Farooq in Katmandu: "It will go away." And it did: after a little while, the loud "clack" that accompanied every stroke of the engine disappeared. And came back a little while later.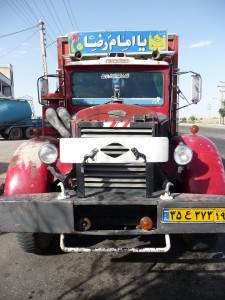 At my next break, in the shadow of a magnificent antique Mack truck and my tea accompanied with a celebratory vermicelli icecream (yes, that tastes as strange as it sounds), I located the origin of the sound. The bush that the spark plug screws into, and which in turn is fixed into the engine head, was loose. Whether the "clack" was the bush rattling in the hole or the air that was forced out with each combustion I couldn't tell, but that's where the sound came from.
In Tehran, a friend took me to a mechanic that he hoped would know what to do with my bike – not too obvious in a country where any bike over 250 cc requires a hard-to-get permit. However, the '80s Goldwing in the entrance of Uncle Ali's workshop inspired trust, and the two Harleys he had stored there increased that trust, as did his enthousiasm. After trying to think of a way to fix the bike without opening the engine, he decided that the head would have to come off after all, and be sent to his favourite Armenian to rework the spark plug hole. After we took the head off we found out that the Armenian magician had left town for a few days, so the bike lived in Ali's shop for what turned into a week before the head specialist returned.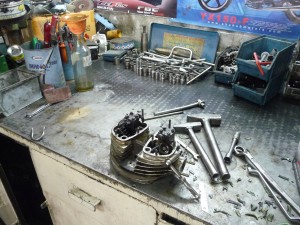 When I came back after the work was finally done, it turned out he had done away with the bush altogether – he had welded the hole full, and drilled and threaded a new hole. We put the engine back together, and I took the bike out. Unfortunately, during a short testride on traffic-filled Shari'ati Street, the compression didn't feel much better than before. When I asked him – with the help of a friendly fellow customer, as Uncle Ali does not speak English – he shrugged and said the engine would need a complete overhaul for the compression to improve, he just did what I had asked him to do. I didn't even mention the gearbox which had turned unwilling – supposedly he hadn't touched it so why would that be his fault? I didn't feel like starting an argument about the little boys in the shop – and some of the big boys, too – who touch everything that can move, playing with switches, throttles, brakes, gears. Kick through all the gears of an unmoving bike a few times is a good way to traumatise a gearobx, but of course I had no way of proving anything, or even being sure myself. So trusting him and his reputation, I paid Uncle Ali his handsome fee and rode off, into the northern hills with a filmcrew to start to work on a documentary about an Iranian musician and myself meeting for a concert.
On my way from Meshgin Shahr to Kaleybar the week after, I noticed a New Sound in my bike.