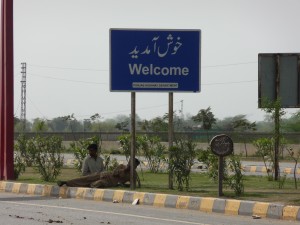 Lahore, Pakistan! I'm in the next country of my road trip, one closer to Holland. Eleven to go :-)
The Wagah border, the only overland border between India and Pakistan, was surprisingly quiet. On the Indian side, I was held up while a number of easygoing Sikh officials went through the paperwork, complaining about and pseudo-apologising for how many forms and ledgers had to be satisfied. When it was all done, an even higher official came and made me open all seven bags on my bike, signed the form to end all forms, and wished me a good journey.
The Pakistani soldier on the other side welcomed me with a firm handshake, and the carnet was quickly processed in a large and well organised hall that was just as empty as the one on the Indian side. The luggage check consisted of the question whether I was carrying any alcoholic beverages, and, after a few more handshakes, I rode out of the border area and had a tea at the roadside stalls behind it. An old man with a long grey-black beard and a kefiyeh draped over his head looked at me curiously and then smiled, shyly. More friendly and investigating looks, more handshakes, and lots of small talk with gestures and guesses rather than words.
Lahore feels comfortable. Wide streets, unagressive traffic with not many horns at all, and it's so clean!
It was well past lunchtime by the time I'd found my hotel and checked in. I went for a stroll, walked by some delicious-smelling kebab stands and eventually settled for a fastfood joint that had tables all over the pavement, with people leisurely enjoying juices and burgers and each others company. A few arts students with poster tubes were chatting over a big cardboard model of joined geometrical shapes. I shook hands and then shared a table with a clean shaven man with bouncy henna-red hair and a subtle line of kohl around his eyes. Tried ordering vegeterian food without meat. A sandwich with only egg, please. Chicken? No, just egg. Chicken. No please, no chicken, no meat. Burger? This is where my new friend – who didn't speak any more English than the waiter – interfered.
It was great just sitting there on the side of the street, relatively unnoticed, and watch the world go by. It was a varied world, with distinct differences between dress style, beards, skull caps, women's head scarves, etc, I imagine based on geographical origin, tribe, economic background, and so on. Tall, big-bellied men with black or grey beards, men with henna-red beards, clean-shaven ones in jeans and t-shirts, and many men, bearded or not, in salwar kameez (long shirt and baggy trousers). Women mostly have their heads covered with colourful shawls like a saw in Rajasthan and the Indian Punjab, burqas, or other scarves. Looking forward to learn a little more about all these different people and starting to be able to guess people's origins.
I washed down the sandwich with a cold and tasty banana shake, said goodbye, and resumed my wanderings / wonderings. Khuda hafiz.