Spent the best part of my last night in Madras stuffing my life into the few (…) bags I can take on the bike – I always end up packing at night,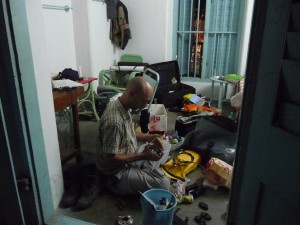 which is why I prefer to leave in the morning: just in case, it gives you the extra hours that were originally set aside for sleeping. (Of course having to catch a train or plane is a better incentive to get things done than having to ride a bike, so I left in the late afternoon after all, just in time for sunset coffee on Elliot's Beach. Read more about the beginning of my drumbiker journey to northwest Europe (started, of course, by going straight south) in bye bye broadlands.)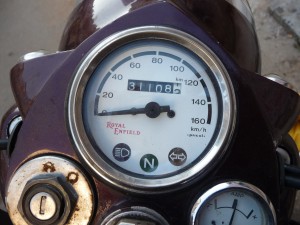 After the 4 or 5,000 kilometres it took me to get from Katmandu to Madras, the counter is now at 31108. Let's see where it'll be when I pull onto the driveway of my little Amsterdam railroad house.
I never made it to the beach – in Mamallapuram I'd told myself I'd go in Auroville, but once I arrived the bike's needs seemed to be more important than my beach boy aspirations and I ended up in a mechanic's sidewalk-garage for the better part of the afternoon. He charged me the princely sum of 100 Indian rupees to play with the idle screw on the carburettor a little, telling me the contact breaker points were ok. While I'm still not sure of the latter, the bike does run better now. It's funny, I'll happily tear apart a gearbox and put it back together perfectly, but the precision work of tuning the bike by turning a few screws a couple of degrees is fully over my head. I guess I'll learn – I guess I'll have to – but for now I was happy watching the mechanic's practiced fingers do the job, meanwhile admiring the bike he was restoring and chatting to a Frenchman who'd been in Pondy for 20 years and owned four Taurus Enfields, the diesel model. An amazing 6 horsepower bike – the upside is it runs forever on a drop of decommissioned cooking oil.
After Pondicherry, the ECR, the East Coast Road, was less busy and even more pleasant. Around a month before I left, a cyclone had hit the Indian east coast. We'd felt it in Madras, and in Auroville and Pondy the effects had been huge (Auroville got its electricity back just a few days ago) but around Cuddalore, the storm's centre 30 kilometres south of Pondy, the wreckage was unbelievable. It'll be a long time before there are grown trees again in that region.
In Chidambaram, I had a refreshingly touristic stop: after tea and a bottle of water, I visited the Thillai Nataraja Temple, leaving the bike with all its luggage in the care of the proprietor of the teastall.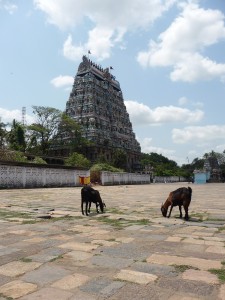 After leisurely exploring the temple, which is dedicated to Shiva as the cosmic dancer Nataraja, whose dance created the universe, I was very happy to wave at all the tourists filing into their buses, climbing on my bike, and leaving on my own, with no one telling me what to do where and when. Just before Thanjavur I stopped for a delicious South Indian pure-vegetarian meals (doesn't matter if you order one or one hundred, it's always "meals") and afterwards walked over to a tea lady a few hundred metres down the road. She used a beautiful contraption involving a brass urn and glowing coals but would let me take photographs.
My original plan had been to ride along the coast to India's southernmost tip, Kanyakumari, and go to Trivandrum and further up in Kerala to play with musicians there. However, with gigs in Bangalore and Madras continuing into the middle of the month, time was running out – and I didn't find musicians in Kerala yet either. I need a producer! (And a cameraperson, pr hero, accountant, fundraiser, mechanic, and sound technician.) Then Ranvir Shah told me about the Sacred Music Festival, organised by his Prakriti Foundation in Thiruvaiyaru every spring, and invited me to come along and play there. Followed three days of concerts and being shown around the temples and countryside of the area, including a great lunch (oh I'll miss South Indian food) at a restored traditional house, now open for tourists.
On the second night of the festival, I had to honour of playing with nadaswaram artist Mylai S Mohanraj and his group of nadaswaram and tavil players. Unprepared and without much discussion (music being the only language we both spoke), I added my grooves to their powerful temple songs. Newspaper The Hindu noticed.
The next morning, after a dawn visit to the Brihadeeswarar Temple in Thanjavur, I rode on – direction northwest, from now on. Redneck in stead of sun in the face.